A round up of the trips we managed in the first full year of having our Dandy 6.  It was a bit shabby and very smelly when we got it, the awning looked good but after 25 years it was disintegrating from being stored damp,
This was the first time up on the drive and the roof was almost completely green.  PVC Cleaner is good stuff.
The awning looked retro enough but disintegrating from being stored away damp, I sent it to
http://www.tentvaletingservices.co.uk
who have been recommended to see if it was repairable.  When they opened my awning one of the girls there remembered making it 25 years ago! Unfortunately it wasn't salvageable so she made another to our spec and perfect matching brown!
First trip in January amongst the hail at Severnake Forest, Wiltshire.  No facilities at this time of the year so it's either take a trowel into the forest or use Tesco's toilet!  The site is nice in the trees with a massive forest to play in and nearby Marlborough to shop in.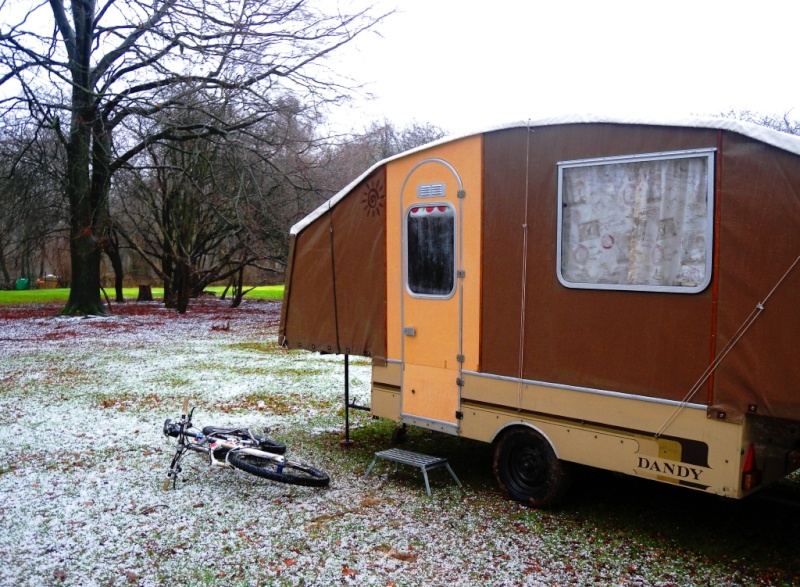 Chilly but bright March in the Peak district at the home of the Hobbit, Rivendale Campsite.  Really good for walking & cycling and sheltered as it has three sides of a quarry around you.
East Fleet Farm near Weymouth in Dorset, the new log cabin style toilet block was the best loos we've had.  The pine smelling building was separated into bathroom style wet rooms with a toilet, sink and shower in each one.
We could fit the whole Dandy including awning on their hardstanding pitch which avoided the waterlogged grass.
Second week of the Easter school hols, we moved to Burnbake campsite near Corfe Castle.  Set in the woods on several levels this campsite was more like a canvas version of Brigadoon.  It was like a lost, secret village in the woods with it's relaxed feel and campfires everywhere.  You cant book here just turn up and put your money in a bucket each evening!
Wellington Country Park in Hampshire.  We had a great pitch in the woods with some friends who borrowed our bell tent and you have free entry to the park included which bumps up the price, especially at the May Bank Holiday but it's a big site and with one, small toilet block it could be a long walk, and wait, for the showers.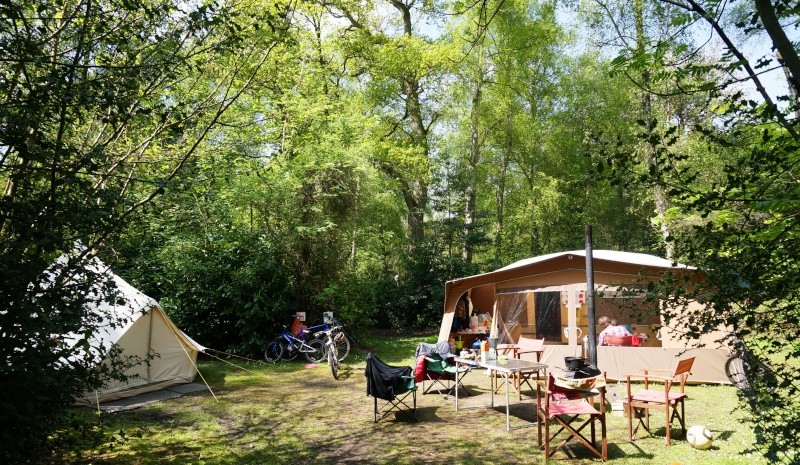 A big family get together in the heatwave of July.  This was a site centrally located for all of us (ish) at Oakham on Rutland Water.  We never saw the lake as everyone just chilled at the campsite.  Again, limited facilities in a portakabin but it was only a couple of nights and the chickens amused the kids and all six families could pitch together.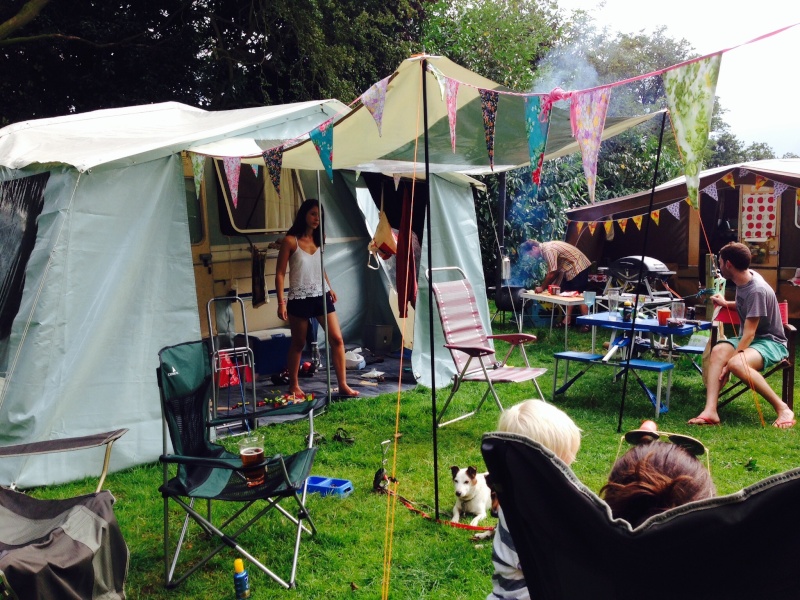 For the summer hols we were in the South Hams, Devon where we spend the summer each year at a farm campsite and where we first saw a Dandy, the next year we were in one!
Lastly, a lovely site in Minchinhampton (or something like that), another family meet in a small but perfectly formed site with an immaculate toilet block and mad as a brush owner who positively encourages campfires.
Then when we got home after spending the last 35 nights in the Dandy we aired the mattresses, we should have done that a few times over the previous month! We gave it a spring clean before this winter's hibernation.
Haven't used it in the snow yet......